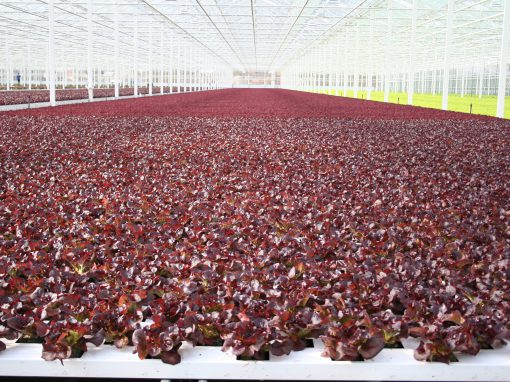 We deliver the highest possible yields per square meter
We maximize productivity by client specific automation from seed to crop.
We deliver the most sustainable hydroponic systems by minimizing water and nutrient consumption.
We optimize space occupation lowering your electricity and heating cost.
We share our growing experience to maximise your growing results.
Green Production Systems is a family owned company with 35 years of experience in Hydroponics. We have been installing automated mobile channel systems for over 20 years.
We believe the future of leafy greens is hydroponic, therefore we operate our own mobile channel system since 1998 producing over 1.800.000 heads per year. This gives us the ability to think from a grower point of view, delivering tailor made solutions to all our clients.
Today we install large scale fully automated systems where manual intervention with the crop is minimal. From seed to Crop we provide installations giving our clients the possibility to grow sustainable vegetables while working with the most productive growing system available on the market.
Because growing lettuce and herbs is our passion, we will demonstrate the same drive whether you need a small scale static system or a fully automated moving system. All components of our systems are made or assembled in our own warehouse making sure we keep full control of our quality.
We know that innovation is the most important component of a successful company. Our goal is to be to most innovating player on the market. Every day we look at problems, turning them into challenges then solutions
Contact us to discuss your project, we are sure we can help you to turn your vision into reality.
Questions? Feel free to contact us by phone or e-mail
   Vaartdijk 91/601 – 2800 Mechelen
   contact@greenproductionsystems.com